Preschool

Little Y's Guys
Our Y has been serving Kankakee County for over 120 years. Last year we served hundreds of families in this community. In 2021, the Y will have the opportunity to reach out to more by providing quality preschool child care to working families in Kankakee County.
Our new full-time preschool program starts in January! Please see the information below about this updated program
Full-Time: We have transformed preschool from a part-time program to full-day child care program held from 8:30 AM - 3:00 PM Monday through Friday. This gives working families another option for quality child care in our community.
Facility: The facility is at the Y and includes seperate restroom facilities from the rest of the Y.
Healthy and Safe Environment: The Y strives to keep all areas of the Y clean and healthy, espcially amid the ongoing pandemic.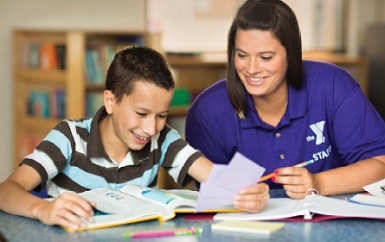 Lunch and Snack Provided: The Y will provide a daily, healthy lunch and snack for our preschool students.
PRESCHOOL CHECKLIST
Signing up for preschool? Here are the forms you will need to complete, date and sign.
Enrollment Form | ACH Authorization Form | Enrollment Agreement
You will also need to provide:
Health Examination - Within six months, Signed and Dated by a Doctor, Current Immunizations, TB test or Dr's Note, Lead Screen Test or Dr's Note
Original Certified (Stamped) Birth Certificate- Make a copy of the original
NOTE: If you are filing a CC&R Application you must pick up this document at the Y. There is site information that must accompany the application for timely processing.
Child Watch
Children ages 6 weeks - 5 years
Time Limit: 1 hour — by reservation only
Monday - Friday..............8:00 a.m. - 12:00 p.m.
Monday - Friday...........4:00 p.m. - 7:00 p.m.
Saturday...........................8:00 a.m. - 12:00 p.m.

Kids' Fit Zone
Children ages 5 - 13 years
Time Limit: 1 hour — by reservation only
Monday - Friday.....4:00 p.m. - 7:00 p.m.

Members: FREE